Old Microsoft account logged in after logging in with new Microsoft Account??
You don't have to contact your service desk… I spent at least an hour of my time trying to fix this myself and below are the steps to follow.
I've tried everything, I've deleted the cached app data from Outlook, Teams, Company Portal, and even Microsoft edge. I have completely uninstalled the Company Portal, uninstalled other apps. Removed my old employer profile in Edge, but unfortunately this was not the solution. It kept redirecting me to my old employers account in Outlook.
---
Then, why is my old Microsoft account being logged in?
The culprit is the Authenticator app.
I had thought about throwing the Authenticator app off my phone, but it contains more MFA's than just my work MFA's. For that reason, I didn't want to throw the app away right away.
Going through the settings of the Authenticator app I found an interesting option: Work or school accounts – Device Registration.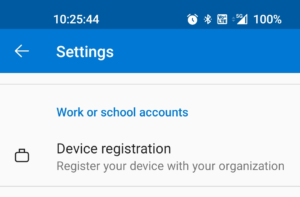 My phone was still registered with my old employer tenant.
I have deleted the registration within the app.
I only have a screenshot of the process afterwards.
I opened the Outlook app again and tried to add the new account again. And see the screenshot below. Finally seeing More Information required!
But no, there is more… I first need to delete the existing account.
I have no idea why this is not done immediately after you delete the registration, but I assume that this is because it is linked in multiple applications such as Outlook, Teams, SharePoint, etc..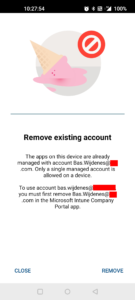 And then you'll have to start over, but I finally got the screen below and could finalize my log in.